Last updated on August 7th, 2018 at 03:54 pm
Neymar is possibly the most known current Brazilian male at the moment. Coming from a land where soccer (i.e. football) is a religion, it is no surprise that Brazil has given out so many great Brazilian soccer players over the years; and Neymar is certainly one of them. Born Neymar Da Silva Santos Junior on the 5th February 1992 (coincidentally on the same day as Cristiano Ronaldo but 7 years later), Neymar is known for his Mohawk hairstyle, a hairstyle that makes him look like a running cock on the field.
Neymar has curly hair; that's to begin with (and which probably comes as a surprise to you). Despite Neymar being seen all the time on the soccer field with straight hair, it is a fact that Neymar has curly hair as denoted from his earlier youth's pictures; I'd even go as far as to pinpoint his curly hair type and say that Neymar has Type IV curly hair (which means Neymar has kinky-curly hair). Because Neymar loves extravagant hairstyles, he resorts to straightening his hair for better manageability since curly hair is not as versatile in terms of offering a huge range of hairstyles. In this tutorial, I will show you how to do Neymar's Mohawk, or, as I've coined it, the Neymar Crest.
Neymar's Mohawk – Grab the hair products
First of all, to get your hair like the Neymar Crest, you will need the following:
Hair straightener, even if you have straight hair
Blow dryer
Hair mousse
A hair clipper and possibly a pair of professional scissors
Neymar's Mohawk – Get the haircut
To be able to put your hair into the Neymar's Crest, you need an overall length of 4 inches on the top of your head as well as the back of your head, so that's a medium length. The haircut for the Neymar Crest is similar to my coined hairstyle Metro Mullet in that the areas of the head that are buzzed are only the sides, effectively buzzing the area so that it makes a rectangle on the sides of your head. If you were to look at your hair from the top, you would see that you'd have created a stripe of hair that runs from your forehead's hairline right till your nape.
This is how the buzzed area with the Mohawk hairstyle should look:
To get the initial haircut for the Neymar Mohawk, I recommend you to go to the barber and print the picture above so that you can use it for the barber to have a reference of the haircut you want done. Once you get the initial haircut, you can then give yourself with a hair clipper every couple of days a good buzz on the area that was initially buzzed so that you keep it at a very short length (between a #1 and a #2 in the hairclipper). Invest in a high-quality hair clipper like any of the ones recommended at the end of the article because you will be frequently buzzing your sides and back if you choose to do it yourself, and low-quality hair clippers will break very fast with frequent use.
Get Neymar's Mohawk – Get the hair style
After you shower, dry your hair, apply some heat-protecting product to your hair and start straightening the locks on top of your head. Choose only a few locks at a time because you want to create an illusion of the hair being in layers. Once you've straightened your locks, grab some hair mousse, apply it on your hands and then work your fingers to direct the hair on the stripe towards the center and up so as to form a crest. As you're directing the hair into a crest, simultaneously use a blow dryer to blow some warm air on the section of the stripe that you're working on. Don't blow the stripe's section for too long; 5 seconds is enough.
As per above, I recommend you to use your fingers instead of a comb for the Neymar Mohawk as your fingers give you more range of motion when styling the crest. You can then provide the finishing touches to the crest by having it lopsided or have the front or back section directed forward or flared out; what's important is that you should be forming a crest with the hair lifted up. This is how your Neymar Mohawk should look: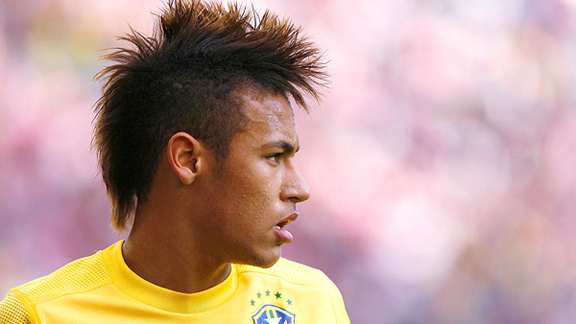 For a good hair straightener and blow dryer, use the ones below. Again, it is important that you use a high-quality hair straightener and blow dryer because these hairstyling tools are known for breaking due to the excessive heat they give off. If you're truly interested in being able to sport some awesome hairstyles like the ones in The Men's Hair Book, then you must invest in a high-quality hairclipper, hair straightener and blow dryer.
Overall, this hairstyle of Neymar (i.e. Mohawk) is quite a cool one although I don't recommend it for a professional, corporate-like setting if you happen to work in one (for the latter, go with the less-extreme Faux Hawk hairstyle). Neymar and his hair are already setting a hairstyling trend in Brazil and the whole of South America, and, since the word on the street is that Neymar will be signed very soon by an European soccer club, I can guarantee you that the Neymar Mohawk hairstyle will become a trend in Europe and the United Stated in a couple of years. In any case, remember you heard it first here at Men's Hair Blog and from Rogelio!
All the best, gentlemen.
Rogelio
Recommended hair clipper for Neymar's hairstyle (Amazon)
Recommended hair clipper for Neymar's hairstyle (UK Amazon)
Recommended hairstraightener for Neymar's hairstyle (Amazon)
Recommended hairstraightener for Neymar's hairstyle (UK Amazon)
Recommended hair mousse for Neymar's hairstyle (Amazon)
Recommended hair mousse for Neymar's hairstyle (UK Amazon)
Image Credit: agecombahia – Flickr
For your male grooming needs, visit the Barbershop Forums, the mens style and fashion community with some epic male grooming stuff thrown in!