Last updated on May 7th, 2013 at 01:22 pm
David Beckham (born 2 May 1975, England) has been one of the greatest men to look up to in term of hairstyles. Throughout the years he has been quite the chameleon with his hair as well as styles and he has become an iconic male celebrity for all related to men's lifestyle (including of course, haircuts and hairstyles). I'd like to dedicate a series of articles to the hairstyles that David Beckham has styled his hair in through his life:
Buzz Cut – David Beckham Hairstyles
The Buzz Cut is a no-muss-no-fuss haircut and hairstyle in that you can give it to yourself at any time and in your own home. Just like Rogelio talks about in his excellent men's hair blueprint, The Men's Hair Book, the difference between a haircut and a hairstyle is that the former is done in the moment so as to cut length while the latter is done to have the hair look a certain way without cutting any length (thus the Buzz Cut can be both a haircut and hairstyle). While it may sound as common sense to some of you, you'd be surprised at the amount of people who get confused with both terms, including hairdressers.
David Beckham has always gone back to the Buzz Cut hairstyle whenever he was playing during highly stressful periods of his football career, as the hectic professional life of an elite football player means that one cannot dedicate too much time to his hair and hair should not be a nuisance on the playing field. More recently, David Beckham has been photographed with his hair in a Buzz Cut despite he no longer plays for Manchester United nor Real Madrid (the two teams that signified the most crucial times of his football career).
David Beckham preferred to keep his head buzzed for important international tournaments where he represented England
David Beckham would keep his hair buzzed to a #1 with a hair clipper
Recommended hair products for David Beckham's Buzz Cut
Crew Cut – David Beckham Hairstyles
After sporting predominantly a Buzz Cut for a couple of years in the early 2000s, David Beckham let his hair grow a tad into a Crew Cut hairstyle and would get the specific Crew Cut haircut done frequently while playing for Real Madrid. David's Beckham's Crew Cut coincided with his paternity and gave him a more mature look that was unlike the hairstyles he had sported the previous years.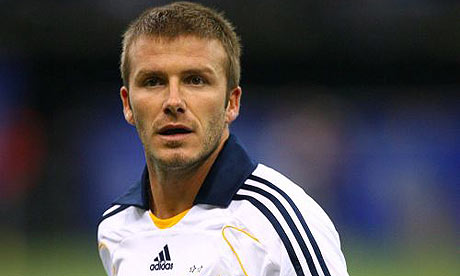 David Beckham with a neat Crew Cut hairstyle during his Real Madrid period after leaving Manchester United

Recommended hair products for David Beckham's Crew Cut
Short Mohawk – David Beckham Hairstyles
As I hinted before with the Crew Cut hairstyle, David Beckham did style his hair in a bit more of a rebellious manner in his earlier years. One of his most extreme hairstyles was a Mohawk, for which he kept the crest short (instead of long as with conventional Mohawk hairstyles). David Beckham kept the the crest at about 1 inch in length while the rest of his scalp was either shaved or clipped to a #0 (so shorter than his Buzz Cut, which was kept at a #1). I highly recommend you not to turn up to work with this Mohawk hairstyle (or any variation of it thereof) if you like your job (chances are you'll either get sent home to get a haircut or be fired straightaway).
One of David Beckham's most notorious hair styles: the short length Mohawk!
Recommended hair products for David Beckham's Buzz Cut
David Beckham Hairstyles: Buzz Cut, Crew Cut, Mohawk
The hair styles of David Beckham that you have learned today in this article cover the shortest ones that Beckham has sported throughout the years. The Buzz Cut and the Crew Cut are both hairstyles that can be worn by practically any male (including balding men) while the short Mohawk hairstyle is a bit unconventional and is best reserved for those times where you go holidaying and can buzz the Mohawk's crest when you have to return to work (thus effectively transitioning from the Mohawk hairstyle to the Buzz Cut hairstyle).
Keep an eye out for more articles on the hairstyles of David Beckham and, until then, spread the word and use the social media buttons below to let the world know that you dig Beckham's hairstyles and our style here at Men's Hair Blog too!
Cheers
For your male grooming needs, visit the Barbershop Forums, the mens style and fashion community with some epic male grooming stuff thrown in!